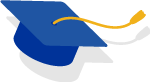 Rising Aviation High School 
Tuition Schedule and Academic Calendar
We handle tuition payments differently than most private schools. Since our classes are self-paced, some students are able to accelerate their studies and therefore won't need as much time. Others may need more time and our structure allows for that as well. Therefore, tuition is paid on a monthly basis rather than an annual basis. The school also operates eleven months out of the year, CLOSED IN JULY, thus providing additional opportunities for accelerating classes or continuing work on current classes.
Tuition Fee Schedule
Monthly Tuition: $495*
(financial need scholarships may be available)
*Aircraft rental is separate
Rising Aviation High School Academic Calendar
Open Enrollment for Future Aviators.