Turn your child's dreams into your teen's future…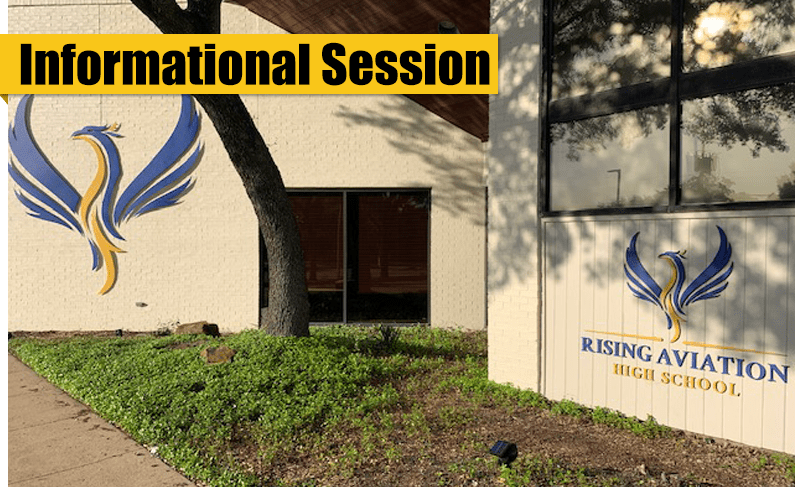 Attention prospective parents and students!
Join us for our next monthly informational session.
May 26, 2022
Time: 6:30 pm – 7:30 pm
Rising Aviation High School
15506 Wright Brothers Dr. Addison, TX 75001
Rising Aviation High School
The Best Private School in the Dallas/Addison Area
Our Mission: Educate | Aviate | Graduate
Serving the DFW Metroplex
Rising Aviation High School educates students who have career aspirations in aviation, wish to expand their aviation industry skill set, or simply want a challenging STEM educational experience in a safe and secure private school setting. We provide a solid foundation for virtually any future academic or career pursuit. Individuals who require an accelerated education schedule, flexibility to maintain attendance, help with credit recovery, or simply desire an immersive learning experience, will all receive a personalized educational "flight" plan designed, from an affordable private school, for their success in aviation and in life.
About Rising Aviation High School
An Affordable STEM Accredited Private High School

Rising Aviation High School is an affordable, local private high school that provides a safe and secure small classroom environment catering to families in the Dallas and Addison areas. Our innovative educational program is built on the foundations of Science, Technology, Engineering, and Math (STEM) curriculum emphasized in many modern academic institutions. But, it is uniquely enhanced through the coupling of STEM with aviation technology studies, practical aviation applications, and course completion through content mastery, not merely seat time. Utilizing our 20+ years of alternative educational expertise, we have created a unique blended learning model that we call STEAM — Science Technology Engineering Aviation Math.
Click the image to learn more!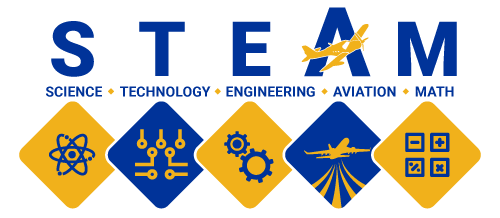 A Private Education Customized For Your Child
The Benefits of a Private School, Aviation Curriculum, Flight School & Pilot Training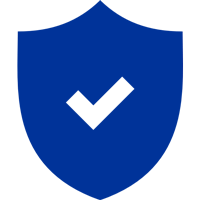 Safe and Secure Environment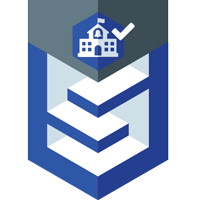 STEM Accredited Curriculum
Self-paced and Accelerated Learning Opportunities
Online Learning Opportunities
Credit Recovery Available
Credits Based on Content Mastery (Not "Seat Time")
Other Benefits of Rising Aviation High School
One-on-one and small group instruction
Self-paced core curriculum
Flexible Instructional pedagogy designed to meet the needs of each student and afford intellectual freedom
Personalized academic "Flight Plan" with opportunities to earn their Basic Ground Instructor (BGI), Advanced Ground Instructor (AGI), or their Sport, Recreational, Private or Drone pilot's license
Opportunities for advanced ratings and endorsements including Commercial, Instrument, High Performance, Complex, & Multi-Engine
Certified flight instructors
Certified and highly qualified teachers
4-day school week with Fridays reserved for tutoring, aviation activities and field excursions
Modern aircraft with the latest avionics
Optional extended school year
Our Aviation and Aerospace Education Program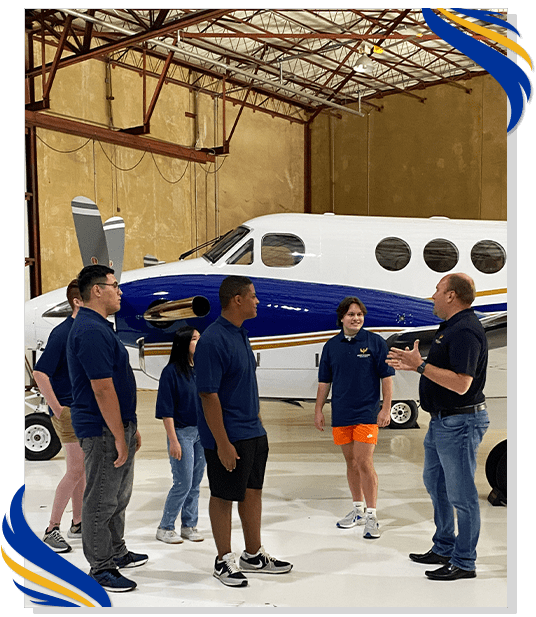 The Rising Aviation High School blended learning program replaces outmoded and obsolete educational modalities. Students advance based upon subject mastery rather than standard time-oriented assessments.
Our students want to be at school. They log on each day ready to learn in a unique self-paced environment bolstered by individualized and small group instruction. Our teachers get to focus on each individual student's needs and plan their lessons accordingly.
Who Should Attend: High School students interested in a flexible learning environment with a focus on technical education and special emphasis on aviation.
Eligibility: Any student in grade 9 through grade 12.
What They Can Earn Upon Graduation: Students will graduate with an accredited high school diploma with a STEM Endorsement and will be highly trained, ready for many career paths including the thousands of opportunities in aviation, such as becoming a fixed wing or drone pilot.
Interested in Rising Aviation High School for your Student? Contact us and we'll answer all of your questions.
Blended Learning
Replacing outmoded and obsolete educational models, students can work virtually but as a matter of practice will attend school at our Flight Center.
Schedule Flexibility
Our hybrid educational model and the fact that the high school operates 11 months out of the year (closing only in July) allows for tremendous schedule flexibility and opportunity for students. 
Individual & Small Group Instruction
Given the small class sizes, our teachers focus on each individual student's needs and tailor lesson plans to each student.
Self-Paced
The Rising Aviation education program encourages students to advance based on subject mastery rather than standard time-oriented assessments. Students move ahead at their own pace according to prescribed criteria.
Rising Aviation High School Flight Center Location
Campus at Addison Airport (KADS) and
Coming Soon to Dallas Executive Airport (KRBD)

Addison Airport Campus
15506 Wright Brothers Dr.
Addison, TX 75001
Dallas Executive Airport Campus
Rising Aviation High School is located at the Addison Airport (KADS). The Flight Center has direct access to taxiway Bravo. For our students, we believe it's important to be at the airport to experience airport operations firsthand. And coming soon, Rising Aviation will be opening a SECOND campus located at Dallas Executive Airport (KRBD).
The Rising Aviation High School Blog

It's not uncommon for kids to have dreams of flying from a young age, especially if they grow up in a family that's big on aviation. For example, Nico Lopez, the first graduate of our private aviation high school in Addison, TX, remembers learning about aviation since...
Open Enrollment for Future Aviators.